"Worship service" is not just a phrase given to our Sunday morning church assemblies. Worship is service to God, just as the priests of old worshipped God by their tabernacle or temple service.
Combined, the Hebrew words for worship mean to bow down to royalty or God, humbly beseech, do reverence, do obeisance, and so on. The Greek words combined mean to prostrate oneself in obeisance or reverence, honor, adore, venerate, praise, minister to God, serve, and so on.
One of the Greek words for worshiper means a temple servant, or one having charge of a temple to keep it clean and adorn it.
By the definition, we are all temple servants of God. Our Godly service, then, is taking care not only of the temple of the church building but also of the temple of our hearts, keeping it clean and unspotted by the world, and adorning it with acts of service.
What do we worship?
Being a jealous God, He commanded Israel, "Worship no god but Me. Do not make for yourselves images of anything…Do not bow down to any idol or worship it, because I am the Lord your God and I tolerate no rivals." (Ex. 20:3, 5a GNB)
Peter said, "You must worship Christ as Lord of your life." (1 Peter 3:15 NLT)
What do we put first in our lives? What draws our passion, our love, our attention? Any worldly things? No busy schedule, job, self-interest, possession, or another person should ever outweigh our passion, love, attention, and worship of God.
Matthew Henry warns, "Those cannot worship God aright who do not worship Him alone."
"For it is written, 'You shall worship the LORD your God, Him only you shall serve.'" (Matt. 4:10 NKJV)
How do we worship?
To worship the God of creation is to bow down in reverence to Him because He is worthy, acknowledging His divinity, to bow in humility and obedience, to bow to His will, His plan, and His purpose by relinquishing one's own agenda, to bow in service to Him with one's life, honoring Him as the One True God.
Paul tells us of the highest form of worship-service we can offer God, "And so, dear brothers and sisters, I plead with you to give your bodies to God because of all He has done for you. Let them be a living and holy sacrifice—the kind He will find acceptable. This is truly the way to worship Him." (Rom. 12:1 NLT)
Therefore, we worship Him with our lives, our bodies. We live lives that please and honor Him by our obedience.
If we are true worshipers, we "will worship the Father in spirit and truth; for the Father is seeking such to worship Him." (John 4:23b NKJV)
"Do we have the Holy Spirit's help? For God is Spirit, and we must have his help to worship as we should. The Father wants this kind of worship from us." (John 4:22-24 TLB)

What worship is acceptable?
"He who venerates and has a reverential fear for God, treating Him with worshipful obedience and living uprightly, is acceptable to Him and sure of being received and welcomed [by Him]." (Acts 10:35 Amp)
A lifestyle of holy living honors the worthship of God. In all we do, we are to "Worship and serve Him with [our] whole heart and a willing mind." (1 Chron. 28:9b NLT)
The sweetest sacrifice of unadulterated worship acceptable to God is the aroma of an unpolluted life, an unfeigned heart, unbroken faith, unquestioning obedience, unconditional love, untainted words, and unselfish deeds.
From bowed knees of reverence, may we offer the gracious service of worship from hearts humbled and repentant before the Lord, glorifying Him with our whole lives.
Hooking up with…
Thursdays…

Fridays…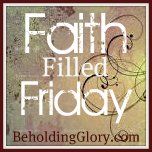 Sundays…