If you've been a reader for a while, you know one of my favorite old television series is M*A*S*H. Almost in every episode, the character Radar, with his sixth sense, would stop in the middle of doing something, look up, and yell, "Choppers!"
"I don't hear anything," someone would respond.
Radar would answer, "Wait for it!"

Wait for it; something is coming.
Reminds me of the story of Elijah.
Elijah had proclaimed to Israel that heaven's doors would slam shut and no rain would come in punishment for their sins. At the end of three and one half years, Elijah dueled it out with the 450 prophets of Baal to see whose god would show himself as the true God, and God won, of course.
Elijah then sent King Ahab to get something to eat and drink, because, he said, "I hear a mighty rainstorm coming!" (1 Kings 18:41b NLT)

Wait for it!
Meanwhile, Elijah climbed to the top of Mount Carmel "and bowed low to the ground and prayed with his face between his knees." (v42b) Then, he said to his servant, "Go and look out toward the sea." (v43a)
His servant went and returned to Elijah, saying, "I didn't see anything." (v43b)

Wait for it!
On the seventh try, the servant came back to Elijah and said, "I saw a little cloud about the size of a man's hand rising from the sea." (v44a)
Excited, Elijah shouted, "Hurry to Ahab and tell him, 'Climb into your chariot and go back home. If you don't hurry, the rain will stop you!'"
As turbulent, black clouds gathered and a swirling wind carried a great rainstorm, Ahab quickly hopped in his trusty chariot and headed for Jezreel.
Then, the Lord empowered Elijah with special strength, and he ran so fast that he passed Ahab's chariot and beat Ahab to Jezreel.
Sometimes, we pray, pray, pray, and pray again, waiting years for an answer. But do we watch expectantly for that answer as Elijah did? Do we watch for the slightest sign of God's movement? Or do we give up waiting and implement our own action?

All our self-efforts will always hinder God's working and the answers to our prayers.
Some answers need that wait-for-it attitude. Many in the Bible waited years: Abraham, Moses, Joseph, David, Paul, and others.
Someone once said, "The hardest ingredient in suffering is often time."
But in those waiting times, how do we wait?
Penned out of some pressing trial in his life, David wrote, "I waited patiently for the Lord; and He inclined to me, and heard my cry." (Ps. 40:1 NKJV)
God will hear us when we cry to Him; we wait eagerly and in expectancy for His answer.

Wait for it…expectantly!
God may seem delayed on our schedule, but the buses of heaven always run on schedule to take us where we need to go, if we will have patience as we wait.
Paul told the Romans, "But if we must keep trusting God for something that hasn't happened yet, it teaches us to wait patiently and confidently." (Rom. 8:25 TLB)

Wait for it…patiently!
Isaiah gives us that familiar promise for waiting, "But those who wait on the Lord shall renew their strength; they shall mount up with wings like eagles, they shall run and not be weary, they shall walk and not faint." (Is. 40:31 NKJV)
Wait for it…and be renewed!
The Lord also waits. Why? Isaiah said, "Therefore the Lord will wait, that He may be gracious to you; and therefore He will be exalted, that He may have mercy on you. For the Lord is a God of justice; blessed are all those who wait for Him." (Is. 30:18 NKJV)

Wait for it…and be blessed!
Are we still before the Lord, waiting eagerly, patiently, expectantly, and in praise for Him to answer, or are we whining and complaining that He hasn't responded?
Bow before the Lord as Elijah did and…

Wait for it! Something is coming!
Hooking up with…
Thursdays…

Fridays…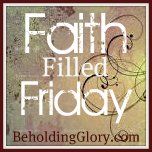 Sundays…