Shocked. Yet honored. Placide Cappeau of Roquemaure, France, was a commissionaire of wines in 1847. Asked by the small town parish priest to pen a poem for Christmas, he was happy to share his talent with the church, even though he was known more for his poetry than his church attendance.
Traveling to Paris in a horse-drawn coach, Cappeau decided to use the gospel of Luke as his inspiration and imagined he was a witness to the birth of Jesus in Bethlehem. By the time he arrived in Paris, he had completed "Cantique de Noel."
Moved by his own writing, Cappeau decided his poem deserved a melody by a master musician, so he sought the help of his friend Adolphe Charles Adams, a Jew.
Not believing Jesus to be the son of God, Adams nevertheless quickly wrote the score to Cappeau's beautiful words. Being well received, the finished work debuted three weeks later at the Midnight Mass on Christmas Eve.
The church wholeheartedly accepted the piece and it quickly became a favorite for Catholic Christmas services. However, when Cappeau turned his back on the church and became part of the socialist movement, and the church leaders discovered Adams was a Jew, the church suddenly denounced France's beloved Christmas song.
Even though it was squashed, the song went underground, so to speak, because the people loved it and continued to sing it as it brought hope in their despair.
In 1855, when American writer and abolitionist John Sullivan Dwight heard these words of the Cantique…

He sees a brother where there was only a slave,
Love unites those that iron had chained.
…he decided to translate the carol into English for America and published his version of the carol as "O Holy Night" in his magazine Dwight's Journal of Music. It found favor especially in the north during the Civil War.
Then, in 1871 in France, the legend goes that on Christmas Eve, amidst fierce fighting during the Franco-Prussian War, a French soldier suddenly jumped out of his muddy trench.
With no weapon in his hands, he lifted his eyes to heaven and began singing the "Cantique de Noel."
After the French soldier completed all three verses, a German infantryman climbed out of his trench and answered with lines from Martin Luther's "From Heaven Above to Earth I Come."
After this jubilant display, the fighting stopped for twenty-four hours as both sides observed a temporary peace in honor of Christmas day. The ceasing of war's despair, if only for a short while, allowed a ray of hope.
The thought of Christmas despair at wartime reminds me of…yes, once again…another episode of the wartime M*A*S*H series.
In one Christmas episode, Charles Emerson Winchester III, a.k.a. Snootyface, is depressed, "waxing nostalgic" as he calls it, and would much rather be at home in Boston with his family gathered around the fireplace, with all "its civility."
Unbeknownst to Charles, Radar has written to Charles' mother, at the suggestion of Father Mulcahy, asking that she send something to make Charles feel more at home, even in his hostile surroundings, and bring him a little hope.
She sends an old toboggan cap from Charles' youth, for which he is totally delighted. With the cap stretched over his balding head, Charles cleans out his pockets of all his cash and gives it to the Father for the orphans.
Father Mulcahy, puzzled by Charles' generosity, asks, "Major, are you all right?"
Chuckling, Charles says, "You saved me, Father. You lowered a bucket into the well of my despair and you raised me up to the light of day. I thank you for that."
Many have their own personal wartime at Christmas: depression, heartache, loneliness, frustration, whatever.
Do you see others drinking from the well of despair this time of year? Offer them a drink from the well of Living Waters to give them hope, to raise them up to see the light of day. To see Jesus as the Light of their day.
Maybe you have your own well of Christmas despair. What reaches down into that well and raises you up to the light of day?
Maybe you have some war waging within you. What song do you sing to still that warring?
The Father is sending you hope and encouragement from Home through the miracle of the manger, the birth of His Son Jesus.
And in His name all oppression shall cease.
Sweet hymns of joy in grateful chorus raise we,
With all our hearts we praise His holy name.
O holy night, O night divine!
O night divine, indeed!
One of the most beautiful recordings of "O Holy Night" is by Josh Groban. I think it is my favorite. Enjoy…
May your well of Christmas joy overflow!
Hooking up with…
Fridays…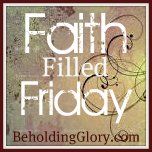 Sundays…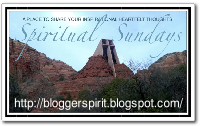 Mondays…