"God does not want us to be like vases of glass or porcelain."
~unknown
"Here comes a prospective customer," whispered the cut-glass vase to the porcelain vase.
"She'll pick me. I'm the prettiest and I can tell she likes the best of everything," the hand-painted porcelain vase muttered haughtily. "You're just cheap ol' glass."
Though a lovely cut-glass vase, Glass felt inferior.
The customer left with a mixed bouquet of delightful flowers…but no vase.
The two vases felt dejected again. But the porcelain vase didn't let the cut-glass vase know it, for she was too proud.
Their stay on the shelf would last a little longer. Day after day, the beautiful, and not so beautiful, vases sat on the shelf, continually hoping themselves worthy enough to be used.
Then, one day, the owner of the store bought a rather insignificant looking, pottery vase made of clay and brought it to the store, setting it on the shelf with Porcelain and Glass.
As he did so, Porcelain whispered to Glass, "How cheap and plain!"
Glass just snubbed the new one.
Clay felt self-conscious, yet bowed in humility to the other two.
"On second thought," said the store owner out loud, "I really like this vase. I think I'll use it in the center of the store to display a lovely arrangement every day. With no beauty of its own, it will showcase the flowers wonderfully and bless others as they come in."
I'm honored my owner has chosen to use me, thought Clay, and humbled that I may be useful to him and a blessing to others.
For the rest of her life, Clay served her owner gracefully, exhibiting the beauty of that which was placed within her.
So it is with us. Paul said, "Now in a great house there are not only vessels of gold and silver but also of wood and clay." (2 Tim. 2:20a ESV)
We each have our own external presence, but it makes no difference to the Lord. What matters is not the outer appearance but the inner contents, as Samuel said, "Man looks at the outward appearance, but the Lord looks at the heart." (1 Sam. 16:7b NIV)
Each of us, as a vessel, can be useful to the Lord. However, if pride, haughtiness, and self-glorification stand sentinel at the door of our heart, we may find ourselves unusable, sitting on the shelf. Therefore, Solomon warns us, "Above all else, guard your heart,
for it is the wellspring of life." (Prov. 4:23 NIV)
What does the vessel of our heart reveal? Is it the kind of life that gives glory to the Lord or glory to self? God desires us to be humble, usable vessels that He "might make known the riches of His glory on the vessels of mercy, which He had afore prepared unto glory." (Rom. 9:23 KJV)
Do we exude the beauty of God's grace? God finds those useful who have a humble heart, filling them with His beauty to be a display of His grace. And a blessing to others.
What kind of receptacle are you? Are you…
* an outwardly beautiful, hand-painted vessel, puffed up with pride?
* a lovely, cut-glass vessel, with feelings of inferiority?
* or a humble, usable clay vessel, one the Potter reaches for to use for His purposes and to convey His blessings?
Do you exhibit the beauty which has been placed within you?
"Become the kind of container God can use to present
any and every kind of gift to His guests for their blessing."
(2 Tim. 2:21 Msg)
Hooking up with…
Thursdays…

Fridays…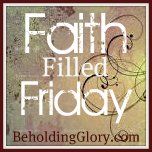 Sundays…