What is in the heart of a father? Love! He loves…

*his children, no matter what
*hugging them
*teaching them
*listening to them
*providing for them
*treating them fairly
*for them to obey him
*having them listen to him
*having them sit on his lap
*giving them little surprises
*helping them plan their future
*guiding them in their decisions
*spending time with his children
*encouraging them in all situations
*supporting them in their life's work
*forgiving them when they do wrong
*disciplining them when they do wrong
*comforting them when their heart aches
*having them come to him to fix their mistakes
*seeing that they have the best he can give them
*withholding what would be detrimental to them
Unfortunately, not everyone is blessed to have a father like that.

Fortunately, there is a father just like that!

He is your heavenly Father. He longs to just hang out with you. He loves to have you visit Him, to crawl up in His lap and love on Him. He desires to hear your voice of love, asking for His help, guidance, or supply, and giving Him thanks and praise.
He loves for you to sit and chat with Him or to just be still in His presence. Words do not always need to be exchanged between loved ones; silence is enjoyed when just sharing moments together.
The Bible tells us the Father's heart possesses feelings of love, hate, jealousy, and other feelings, yet He is not a God of whims or moods. He is not swayed by our badgering or complaining.
How sweet it is to Him when loving hearts draw near, not continually for help but for tender companionship. How much does He desire that we sit at His feet in loving adoration as Mary did or lean upon His breast as John the beloved did?
What makes Him happy? Obedient children, those who trust Him and have faith in Him, those who love His will, those who are filled with His love and willingly share it with others.

Dear to His heart are those who know what brings Him a joy-smile.
Which do we do more: bring a smile to His face or grief to His heart? Scripture tells us to "not grieve the Holy Spirit" (Eph. 4:30). Grieve means to affect with sadness.
So, while we know praise and thanksgiving warm His heart, do we know what grieves or saddens the Father's heart?
He is saddened by His children's constant whining or complaining. He is grieved when they say they love Him and, yet, have no time for Him. His heart aches that they make such unfortunate choices and fill their lives with the consequences of pain and heartache.
It saddens Him when we call on Him, yet do not obey, "Why do you call me, 'Lord, Lord,' and do not do what I say?" (Luke 6:46 NIV)
Throughout each day, we are faced with making many choices. They will inevitably either pull us away from the Father or propel us unreservedly right into His loving lap.
The Father Heart reaches out to draw us to Himself, calling us to make better choices, to live a life that glorifies Him and the name of Christian. He lovingly says to us, "Yes, I have loved you with an everlasting love; therefore with loving-kindness I have drawn you." (Jer. 31:3 NKJV)

Questions to ask yourself:
*Do I draw hungering breaths for Him?
*Do I wound His heart with too much whine?
*Am I anxious to get out of His presence or into it?
*Do I consult the Lord before making any decisions or choices?
*Which do I do more: thank and praise Him or complain to Him?
*Do I grieve the Father's heart with my behavior or do I desire to make Him proud of me by obeying His Word?
"That's the whole story. Here now is my final conclusion: Fear God and obey His commands, for this is everyone's duty." (Eccl. 12:13 NLT)
"Choose to love the Lord your God and to obey Him and to cling to Him, for He is your life and the length of your days." (Deut. 30:20 TLB)

May your life be a long one of good choices, bringing glory to the Father, joy to His heart, and a smile to His face.


***So you don't miss any posts, be sure to subscribe!
***Also, don't forget to comment to be entered for the $100 gift card! Entries close midnight Oct. 10th.

Hooking up today with…
Fridays…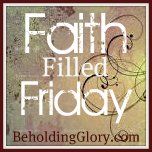 Saturdays…
Monday…