Something has been bugging me lately and I feel compelled (or maybe it's led) to write about it.
Are we thankful in our trials and circumstances or are we thankful for them? I always hear people say that the Bible tells us to be thankful in situations but not for them.
Well, I agree and I also disagree. This may not be very popular. But if we want to be true to Scripture, we have to dig in and see what it says.
Let's look at it.
What did Paul say in Philippians 4:6? "Be anxious for nothing, but in everything by prayer and supplication, with thanksgiving, let your requests be made known to God." (NKJV)
In is a primary preposition that denotes a fixed position, whether in place, time, or state, and also means at, up, upon, by, etc.
Now, what did Paul say in Ephesians 5:20? "Giving thanks always for all things to God and the Father in the name of our Lord Jesus Christ." (NKJV)
The Greek word for for is huper. It is also a primary preposition and means over, above, beyond, across, for the sake of, instead, regarding, or more than. If you look up all the uses of the word, you'll see that only twice is it translated in but is used only in phrases, "in behalf of" (Phil. 1:29) and "in thy stead" (Philemon 13 KJV, or "on your behalf" in the NKJV).
So, where was Paul when he wrote his letter to the Ephesians, when he penned "giving thanks always for all things"? With Silas, stripped, beaten with whips, thrown into prison, with their feet in stocks. And what were they doing? Singing and praising the Lord. Were they thankful? Sounds like it to me. No one can sing and praise the Lord and not be thankful.
What happened when they praised the Lord? An earthquake threw open the prison doors, and the jailer and his household were saved and baptized.
So, what does that leave us? Well, as I see it, we are to do both, give thanks in and for.
I hear angry voices say: You mean to tell me I'm supposed to give thanks for someone who abuses me? I'm supposed to give thanks for someone who took the life of my child? I'm supposed to give thanks for an accident that left me incapacitated? I'm supposed to give thanks for a spouse who left me? I'm supposed to give thanks for this devastating disease?
Paul is the one inspired by the Holy Spirit to write those verses. When we praise as Paul and Silas did, we find the prison doors of our trial or heartache thrown open. But only on God's timetable. We may have to endure the situation for a while.
And what of others? At some time, also on God's timetable, others will be blessed as well, just as the jailer and his family.
I know it all sounds backwards, but isn't the Christian life a backwards life?
What else did Paul write while in prison?
"In Him also we have obtained an inheritance, being predestined according to the purpose of Him who works all things according to the counsel of His will, that we who first trusted in Christ should be to the praise of His glory." (Eph. 1:11-12 NKJV)
It is difficult sometimes to praise and thank the Lord. So, you can decide for yourself in your circumstances: will it be…
…thankful in or for?
Hooking up with…
Thursdays…

Fridays…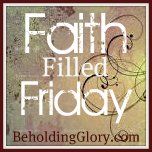 Sundays…