The phrase "six degrees of separation" rattled around in my brain the other day.
As the concept goes, six degrees of separation is the idea that everyone is approximately six steps away from introduction to any other person on earth through a "friend of a friend" times six.
This intrigued me. As I mulled it over, I thought that if there are degrees of separation that can bring us together with someone, then the opposite is true: in our closeness with someone, there are degrees that can separate us.
And separate us from the Lord.

The desire of God's heart is always that we separate ourselves from the world…not from Him.
Separation is two-sided: the holiness of Christ within us separates us from worldly influences and the unholiness of our flesh separates us from our fellowship with the Lord. Therefore, we are to separate ourselves from what separates us from the Lord.
The six degrees actually turns into seven as Solomon warns us of seven things that the Lord hates or abhors, "These six things the Lord hates, yes, seven are an abomination to Him: a proud look, a lying tongue, hands that shed innocent blood, a heart that devises wicked plans, feet that are swift in running to evil, a false witness who speaks lies, and one who sows discord among brethren." (Prov. 6:16-19 NKJV)

If we allow a worldly or fleshly desire to influence us, it will unfold a veil of obscurity, which cloaks the presence of the Lord and a perceived distance is felt in our companionship with the Lord.
Paul warned the Corinthians of the very immoral and pagan people surrounding the believers, "Therefore come out from them and be separate, says the Lord." (2 Cor. 6:17a NIV)
All these things come from within our hearts and pollute us, Jesus said. "For from within, out of a person's heart, come evil thoughts, sexual immorality, theft, murder, adultery, greed, wickedness, deceit, lustful desires, envy, slander, pride, and foolishness." (Mark 7:21-22 NLT)
More separations.

So, what else separates us from having a continual, intimate relationship with the Lord? A busy schedule, negativity, whining/complaining/murmuring, self-whatever, lack of trust, unbelief, worry, doubt, discouragement, unforgiveness, and bitterness, just to name a few more.
Or maybe it is some sin we refuse to give up. Or an unforgiving spirit. Or maybe some circumstance arises that diverts our focus away from the Lord and our faith wanes.
The stimuli of these sights and sounds around us cloak our awareness of the Holy Spirit. Each one of them is another veil over our spiritual eyes and we wonder where the Lord went. Though He never goes anywhere. It is just that our perception of His presence is at fault.

When we don't deal with the veils of unholy separation, we grieve the Holy Spirit and mar our relationship with Him.
Paul said, "And do not bring sorrow to God's Holy Spirit by the way you live. Remember, He has identified you as His own, guaranteeing that you will be saved on the day of redemption. Get rid of all bitterness, rage, anger, harsh words, and slander, as well as all types of evil behavior. Instead, be kind to each other, tenderhearted, forgiving one another, just as God through Christ has forgiven you." (Eph. 4:30-32 NLT)
We need to remember what God has done for us, "By His divine power, God has given us everything we need for living a godly life. We have received all of this by coming to know Him, the one who called us to Himself by means of His marvelous glory and excellence." (2 Peter 1:3 NLT)

Have you separated yourself from the world?
Are you experiencing any degrees of separation from the Lord?
Hooking up with…
Thursdays…

Fridays…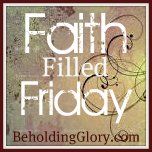 Sundays…