My dearest friend,
The Lord has placed it on my heart to write to you, to encourage and uplift you, and maybe even to inspire you to live your life a little closer to Him throughout the New Year.
Though you stand on the verge of this land of the unknown, you will find this year to be no different from the last, in the sense that life offers no smooth rides. Deuteronomy 11:11a says, "But the land you are about to go into and take for your own is a land of hills and valleys." (NLV)
Hills and valleys will be present just as they were last year. They will supply an abundance of opportunities, interests, learning, joys, sorrows, and, yes, even testing and discipline.
However, dear one, take courage from God's Word. Deuteronomy 11:12 says, "The Lord your God cares for this land. His eyes watch over it from the beginning to the end of the year." (NLV) And so His eyes are upon the land of your journey, for He cares for it from the beginning to the end.
In your journey, you will encounter lush, green hills of the Lord; stand upon their summits and take in those sweeping vistas, not necessarily as telescopic views into the future but as windows upon the present, to give you a God's-eye-view of your circumstances, of God's working in your life.
Just over some of those fruitful mounts may be valley lows and wilderness days. You may feel blighted by the frost of relationships or swept away by the winds of adversity, but the Lord of the hills and valleys walks beside you through each one.
Not all valleys are parched, devoid of verdant beauty. Someone once said, "The hills collect the rain for a hundred fruitful valleys." The land of your new year is cared for, watered from heaven and watched over by the eyes of the Creator, and He will make all your valleys fruitful.
How is this to be? As the Lord told Israel through Hosea, He says to you, "All your fruit comes from Me." (Hosea 14:8b NLT) And Jesus reiterated that assertion, "He who abides in Me, and I in him, bears much fruit." (John 15:5 NKJV)
Abide in Him, my sweet friend, in this year's journey and you will be fruitful through all you undergo.
When you come upon a misty valley of uncertainty, depression, or unforgiveness, do not linger in there. You will miss the beautiful heights of glory just ahead.
And when a mount of circumstance rises up before you, do not be afraid to ascend that hill. You may be dismayed by its height and vastness but one step at a time will bring you to those heights of glory unknown before. And no matter how steep the way seems, keep your eyes on the way before you; your climb will be that much easier.
The Lord will lead you gently through each day, each season, each circumstance. As Jacob said to Esau in concern for the herds and the children in their journey, so you can take this verse to your heart as from the Lord, "I will lead on slowly at a pace which…the children, are able to endure." (Gen 33:14 NKJV)
The Lord knows the way; He leads on gently. Not allowing more in your path than you can handle. Do not be disillusioned at the seeming darkness on your path; He will be your Light, your Guide, your Strength, your Peace, and your Comfort.
There are miles to cover this year, tests to take, new things to experience, gifts to discover, moments to breathe in, promises to possess, and sins to release.
May you go forth to possess each gift, each promise, and each day's delivery of the Lord, to conquer each challenge you encounter, and to be the victor and not the victim of its confrontations. May your journey through the New Year be guided and protected and may it be filled with abundant blessings.
And remember, He will watch over you from the beginning of the year until the end.
With all my love,
Hooking up with…
Fridays…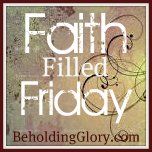 Sundays…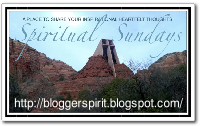 Mondays…