A bazillion times a day. Open! Closed! When he was a toddler, our second son sat with me as we played with Matchbox cars, especially one that looked like the car I had at the time, a yellow MGBGT (a hatchback). He loved to open and close the hatch. Open! Closed!
Open!
Jesus opened a tomb one day.
He received word of the illness of His friend Lazarus. When He heard the news, He said, "This sickness is not unto death, but for the glory of God, that the Son of God may be glorified through it." (John 11:4 NKJV)
The opening of the tomb would glorify Jesus. However, the disciple John tells us Jesus did not rush to His friend's side but delayed going to see Lazarus for two days. In the meantime, Lazarus died.
Closed!
When Jesus arrived at the tomb and joined Mary, Martha, and the others weeping in agony, He told some of the men to take away the stone. Martha said, "Lord, by this time there is a stench, for he has been dead four days." (John 11:38b NKJV)
Jesus said to her, "Did I not tell you and promise you that if you would believe and rely on Me, you would see the glory of God?" (John 11:40 Amp, my very favorite verse)
As the men rolled the stone back and opened the tomb, Jesus lifted His eyes and prayed to the Father, thanking Him in advance for what He was about to do.
If you look up the original meanings of the words, you'll find that Jesus yelled out in a 'megas' voice. No soft whisper or casual voice. Most all versions say, "Lazarus, come forth!" or "Lazarus, come out!" But if we check the definitions, He said this, "Lazarus! Here! Outside!" Can't you hear the commanding resolution and power in His voice?
Open!
When that stone was rolled away, life opened up again for Lazarus.
Closed!
Soldiers took Jesus to Caiaphas, the high priest, and the scribes and elders. When false witnesses testified against Him, Jesus "opened not His mouth; He was led as a lamb to the slaughter, and as a sheep before its shearers is silent, so He opened not His mouth." (Is. 53:7 NKJV)
After Jesus suffered a brutal scourging that laid open the flesh of His back, a crown of thorns pressed into His scalp, having His beard plucked out (Is. 50:6), being spat upon, being mocked and rejected, and the ridicule of being nailed to a cross naked, He died and was laid to rest in a tomb.
Open!
The day after Sabbath, when Mary Magdalene and the other Mary came to Jesus' tomb, a great earthquake occurred as an angel of the Lord came and rolled back the stone from the door of the tomb. Sitting on the stone, he said to the women, "Do not be afraid, for I know that you seek Jesus who was crucified. He is not here; for He is risen, as He said." (Matt. 28:5-6a NKJV)
The stone was rolled away from Jesus' tomb and new life opened up for every single person who would roll away the stone of his or her heart and believe for resurrection life.
Open or closed?
Jesus gives us a Lazarus-call today, beckoning us to come out of our tomb of darkness and into His Light of new life. He gives us an eternity-call, beckoning us to come out of our tomb of sin and into His salvation and forgiveness.
When we hear His call, do we stay in our darkened tomb, wrapped in our stinking death cloths, or do we shed them, open our hearts, and come out to join the Light of Life?
He says to you and me as He said to Martha, "Did I not tell you and promise you that if you would believe and rely on Me, you would see the glory of God?"
Is the hatch of your heart opened or closed to receive such immense love and sacrifice? Do you open and close it a bazillion times a day? What will glorify the Son?
May Easter's Resurrection Joy fill you to overflowing!
May you remain…OPEN!
***This has been a part of the ChristianWriters.com blog chain on the topic of open. This is the final topic as the chain gang has been closed.
Hooking up with…
Thursdays…

Fridays…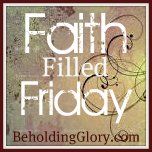 Sundays…