"Now, dear brothers and sisters, regarding your question
about the special abilities the Spirit gives us.
I don't want you to misunderstand this."
(1 Cor. 12:1 NLT)

In the Bible, the apostle Paul tells us of the ministering character of the Holy Spirit and the gifts He imparts. These extraordinary gifts were first given to the Christians of the early church, equipping them for service and helping them to grow the church.
But maybe you've heard that some say that the gifts are no longer necessary or available. Paul said, "All the special gifts and powers from God will someday come to an end, but love goes on forever. Someday prophecy and speaking in unknown languages and special knowledge-these gifts will disappear. Now we know so little, even with our special gifts, and the preaching of those most gifted is still so poor. But when we have been made perfect and complete, then the need for these inadequate special gifts will come to an end, and they will disappear." (1 Cor. 13:8-10 TLB)
These graces are still active today. We have not been made perfect and God has not changed. Nor has His Spirit stopped working through mankind to enable him to do His work.
Because our natural talents or abilities are not sufficient to do God's work, the Holy Spirit provides a variety of gifts to meet the needs of others through us. In order to carry out what God desires, we must be willing vessels to permit the Holy Spirit to work through us.
*What are the gifts of the Holy Spirit?
There are several different lists of gifts but no one complete list of them all. Paul tells us, "There are different kinds of spiritual gifts, but the same Spirit is the source of them all. There are different kinds of service, but we serve the same Lord…It is the one and only Spirit who distributes all these gifts. He alone decides which gift each person should have." (1 Cor. 12:4-5, 11 NLT)
The Lord may equip you with one or more of the following: the gift of wisdom, knowledge, faith, healing, miracles, prophecy, discerning of spirits, tongues, interpretation of tongues, preacher, apostle, administration, helps, giving, leadership, mercy, exhortation, teaching, encouragement, or some other special gift.
*What are the gifts used for?
God apportions gifts, Paul says, "to equip God's people to do His work and build up the church, the body of Christ." (Eph. 4:12 NLT)
Though we each are given a different gift, we are to use it, as Paul told the Roman church, "Having then gifts differing according to the grace that is given to us, let us use them." (Rom. 12:6a NKJV)
No matter what gift one receives, the working out of one's gift is for the purpose of serving and is not optional.
*How do I find out what my gift is?
First, make sure you have given your heart to the Lord and received His gift of forgiveness and salvation through His death and resurrection. When you have done so, the Lord gives you the Holy Spirit to reside in your heart.
Second, pray and ask the Lord to make it clear to you what your gift is (or gifts are) and be willing to serve, even if it is unfamiliar territory and scary.
Third, if you are confused or not sure of your gift, you can take a test. There are several online. They can be of some value in determining what area God has gifted you. However, you should place more emphasis on seeking God and His Word and submitting to His leading.
Fourth, ask others. They may often identify a spiritual gift working in you that you might not recognize.
Though we have a gift but lack this one thing, we are, as Paul said, "a noisy gong or a clanging cymbal." (1 Cor 13:1b NLT) That one thing…is love. He said if he could do all things and sacrificially give his all but did not love others, he would be nothing and have gained nothing. (1 Cor. 13:2)
If we desire to receive any gift from the Lord, we must be emptied of self, for being filled with self leaves no room for the Lord or His gift.
*What do I do with my gift?
Paul tells us, "Now you have every spiritual gift you need as you eagerly wait for the return of our Lord Jesus Christ." (1 Cor. 1:7 NLT) He begs "you to walk (lead a life) worthy of the [divine] calling to which you have been called [with behavior that is a credit to the summons to God's service." (Eph. 4:1 Amp)
When you identify the gift, then, go and use your gift to serve the Lord and others!
"Do not neglect the gift which is in you,
[that special inward endowment] which was
directly imparted to you [by the Holy Spirit]."
(1 Tim. 4:14a Amp)
Fridays…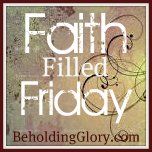 Sundays…