Do little snippets, little phrases, of scripture stand out to you? Sometimes, they fling themselves off the pages of my Bible and sock me right between the eyes!
Though scripture must be taken in context and not misused, sometimes, there is more than one application to a portion of a verse. Especially when the Holy Spirit quickens it to our spirit.
I have a bazillion of these underlined and highlighted in my Bible. Though the Lord uses scripture for our discipline, comfort, exhortation, teaching, and guidance, among other things, He also uses portions of His Living Word to speak to us. To bring life, His Life, into our soul and spirit.
And this one has been speaking – loudly – to me…"Blessed is he who waits." (Dan. 12:12a NJKV)
Wow! Blessed is the one who waits!
But waiting…waiting…waiting…is hard, isn't it?
Sometimes, we wait years for the expression of an answer to prayer.
Over time, I've learned to rest and wait, but, sometimes, I don't do it very well.
I'm impatient…years pass and no resolution comes.
I'm perplexed…seeds have been sown but no harvest is produced.
I'm disappointed…the Lord has promised and no result has made its appearance yet.
I'm frustrated…my heart is anxious to serve the Lord, longing to help another, to bring aid and comfort to those who are hurting, but a way is not provided.
It's difficult to be a spirit-being housed in a human vessel, limited to physical outcomes.
My heart aches and words spill out…
I know the battle is not mine; it is Yours, Lord. Not my will but Yours be done. I will wait until You, Lord, roll back the crushing tide of circumstance and illness. I will wait, Lord, until You open heaven's sluice gate of provision. I will wait, Lord, until Your hand brings the needed resolution.

I will wait…in silent anticipation, in childlike obedience. Waiting for Your commands, Your guidance, Your supply. Oh, Lord, I need to practice anticipating Your working and fulfillment and waiting in watchful expectancy of Your supply of all that is needed.

When the earth shakes with heartaches and trials, Your joy, Lord, will be my strength. You will be my fortified place of safety and protection, my anchor in the harbor.

Wait patiently, my soul…for God is never late. His truths cannot fail. His promises shall be accomplished in due time.

Lord, make me like Abraham, "After he had patiently endured, he obtained the promise." (Heb. 6:15 NKJV)

May I be long-spirited, to persevere patiently and bravely, to obtain Your promises.
"But if we hope for what is still unseen by us,
we wait for it with patience and composure."
(Rom. 8:25 Amp)
Hooking up with…
Thursdays…
Fridays…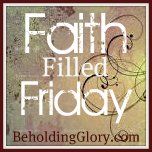 Sundays…