Gasping for air.
Swallowing water with each breath.
Reaching for anything to grab.
Going under for the third time in water depths twice my little height.
Frightened beyond words.
Will anyone notice?
Around the age of eleven, I was with some friends at the pool. In the deep end of the pool, some of the older kids played a game with other kids on their shoulders. I don't remember if they were playing "chicken" or not.
One of the older girls asked if I would get on her shoulders.
"Sure," I said. "Just don't dump me backwards in the deep end."
Into the shallow end we went and up on her shoulders I went. And what does she do? Yup. She dumps me backwards off her shoulders in the deep end!
I couldn't swim very well. I could play around in the water if my feet touched the bottom of the pool; I felt safe there. I always struggled to swim. I had no body fat to keep me afloat. Too skinny! My biggest fear? The deep end!
I almost drowned in the deep end that day. But, suddenly, a hand reached out, grabbed my arm, and pulled me up to an inner tube from a tractor tire that just happened to be in the deep end.
Rescued.
I didn't have a storm around me, though it felt like it, so I understand a little how Peter felt as he stepped out of the boat that day, full of courage, yet, "when he looked around at the high waves, he was terrified and began to sink. 'Save me, Lord!' he shouted." (Matt. 14:30 TLB)
Just as the Lord heard Peter and "immediately Jesus stretched out His hand and caught him," (Matt. 14:31 NKJV) and saved him, so He reached out and saved me that day.
The deep end still scares me. My lungs even close up when I see someone struggling underwater on television or in a movie. But the crazy thing? I love the water!
No matter what fears we have, they always have a deep end with a swirling current sucking us down to deeper depths of doubt, unbelief, and worry, as merciless destroyers of faith.
Fear cannot abide in a heart where the Lord dwells, as John, the beloved disciple, tells us, "Well-formed love banishes fear. Since fear is crippling, a fearful life…is one not yet fully formed in love." (1 John 4:18 Msg) The Phillips version says, "Love contains no fear—indeed fully-developed love expels every particle of fear."
When Joshua and Caleb went with the other ten recruits to spy out the land and found giants, the ten boo-hooed in fear while Joshua and Caleb, noted for their courage, said, "We are well able!" (Num. 13:30)
Ambrose Redmoon said about fear and courage, "Courage is not the absence of fear, but rather the judgment that something else is more important than fear."
There will always be another giant of fear waiting to play chicken with you and dump you into the deep end. Will it consume you or will you overcome and conquer it?
Stand fast against your fear, "For God has not given us a spirit of fearfulness, but one of power, love, and sound judgment." (2 Tim. 1:7 HCSB)
Whatever your fear, Jesus is always there to rescue you. If you begin to sink into that fear, He will reach out, grab you with a mighty grip, and will not let go. He is your Life Preserver, just like that inner tube.
Have you been thrashing about in the deep end of a swirling fear? Will you sink or be rescued?
***If you are a mom…This devotion can be found in the free pdf book Overwhelmed offered by The M.O.M. Initiative when you sign up for their monthly newsletter and daily encouragement from moms.
Hooking up with…
Thursdays…

Fridays…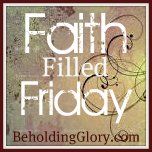 Sundays…