Years ago in England, in the days when nobility and royalty rode in horse-drawn carriages, when men wore long-tailed waistcoats and women wore graceful dresses and beautifully decorated bonnets…
…there lived a young man, a prince, a very kind and benevolent gentleman. He longed to find the right girl to be his bride. His friends made suggestions but he was not interested.
One day, the prince decided to visit the nearby village. As he strolled through the village, he noticed a beautiful, young girl his age. Watching her, he noticed her friends guiding her, and he realized she was blind.
He asked one of his servants with him to inquire about the girl. The servant did so and returned to explain she was a peasant girl who, when very young, had an accident which left her blind. The doctors thought an operation would recover her sight, but, as she came from a poor family, she could not pay for it.
Over the next few weeks, the young prince could not get the beautiful girl out of his mind. He went to the village as often as possible just to get a glimpse of her. Through his servant, he asked permission to be introduced to her.
Being shy and feeling unworthy, the girl, reluctant at first, finally agreed. After the introductions and following protocol, he bowed. She curtsied. He asked if she would like to take a walk with him. Hesitantly, she agreed.
Curious about him, she later asked her friends what he looked like. They said the prince was a tall, handsome, young man with piercing eyes and a wonderful smile. She became captivated by him.
For months, the prince courted the peasant girl and, deciding he could not live without her, he asked her to marry him.
She did not think she was worthy of his affection but he convinced her that he loved her whether she was blind or had sight. She accepted his proposal.
A few weeks before the wedding, on a routine doctor's visit, the doctor told her of a new surgery being done with great success. She told him she had no money to pay for it and left very disappointed.
She kept this a secret from everyone.
Though she prepared for her wedding day with great excitement, her heart ached with a longing to see her bridegroom.
The doctor, knowing the prince would gladly pay for the surgery, told him about it and the prince agreed to pay for it. He, too, kept it a secret.
The doctor called on the young girl and told her someone anonymously paid for her surgery, but there was one drawback. The doctor would not be able to remove the bandages until right before the ceremony as time was short.
Though she wanted to have the bandages removed sooner, she agreed to the procedure. Hope of seeing her bridegroom for the first time on their wedding day, to look into his loving eyes, filled her heart.
On the day of the wedding, those of English nobility and royalty from the prince's family and those of his friends, along with those of the bride's family and her friends, sat in anticipation.
The prince stood at the front of the church, waiting, beaming with an expectant, crooked smile, anxious to see his forever bride. First standing on one foot and then on the other yet the epitome of royalty in his wedding finery.
He was ready to whisk his beloved away to their future home. Anxiety increased as he awaited the lovely figure in white to take her place beside him.
The young bride stood in the vestibule with her father, holding back the tears of disappointment that the doctor had not arrived to take off the bandages. Just then, he rushed in the door and removed them.
As the bride started down the aisle, a ray of sunshine filtered through a stained glass window and fell across her face.
"Father, I can see! I can see! I once was blind but now I see!" she shouted, as all the attendees stood to applaud her.
With a heart bursting with joy, the young girl walked down the aisle to greet her beloved prince.
As their eyes met for the first time, tears streamed down her face, and she knew beyond a doubt that she was loved and cherished, that nothing she had done in the past mattered to her loving prince.
Oh, dear ones, do you see it? Do you see you are the peasant girl? Do you not, at times, feel unworthy of the Lord's love and forgiveness? Does He not anxiously wait to take you home with Him and yet patiently wait for you to come to Him? Do you not have a heart full of love for your Prince, your Lord?
I once was blind. Were you?
***A twist on a story by an unknown writer.
Hooking up with…
Thursdays…

Fridays…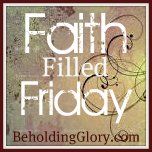 Sundays…