Overweight, she couldn't play on the swings or play tag with me.
But she played tea party with me…with a silver tea set. And we picked flowers and vegetables from her gardens.
She loved to throw open her arms to welcome me and squeeze me tight.
She loved to sew little things for me, like aprons from floral patterned flour sacks.
She let me give her weird hairdos as she sat in her favorite chair and I sat on her shoulders.
She let me sit on the floor in the kitchen and make a mess with flour while she cooked.
She loved buttermilk and always tried to share it with me. (Never worked!)
She was wonderful. I loved Granny dearly.
And oh, yes, she loved to spoil me. As Mom would say…spoil me sweet!
My parents and I lived with my paternal grandparents twice in my life. Once, when I was four to six years old and again when I was thirteen. We lived in a historic home, nestled in 900 acres of farmland. And we had a ghost. I only heard it once.
We were self-supporting: cattle fattened up in the field, turkeys gobbled and pigs wallowed in the mud, the obligatory barn cats roamed the hayloft and ducklings swam in the pond, horses whinnied and peacocks unfurled their feathers and screamed at visitors, and fresh fruits and vegetables graced the family table alongside the farm delights of just-laid chicken eggs, and butter and milk from our own dairy.
A clear stream gurgled as it meandered through the farm. One of my most precious memories of my sweet Granny was when she had one of the farmhands plant along the hillside by the creek a bazillion jonquils and daffodils, which burst into a sea of yellow in the spring.
But more important than growing up with all of this was what I really possessed: a family. I always had a base, a foundation: family. And my family had a base: faith in the Lord, with Sunday School and church services on Sunday mornings, plus Sunday night, and then again on Wednesday nights. Oh, and youth choir for me thrown in.
No matter what the size of one's physical surroundings, it is the love of family and the love of God that matters the most.
Many times, I would sit with my grandparents in church. I loved sitting with them, even if Granny couldn't sing a lick. She belted out those old hymns just as if she hit every note on key, which she didn't.
One old hymn strikes a resonant cord within me and draws me back to those times. But to this day, I cannot sing it. I cannot sing that precious old hymn, "The Old Rugged Cross." The tears steam down my face whenever I hear it. I cannot sing and cry at the same time.
One day when I was thirteen, my Granny died, and my heart broke. I was devastated. As of today, February 11, 2013, that was 54 years ago.
I know some of you may have read my writing before about Granny. I hope you didn't mind a walk down memory lane with me today.
Memory tears still warm my cheeks. 'Cause I miss her, even today.
Tuesdays…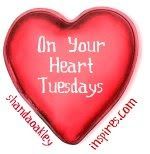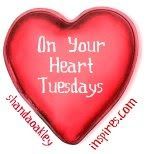 Wednesdays…