"A long time ago,

in a galaxy

far, far

away…"
…the stars were more visible than they are now, depending, of course, on where you live.
When I was still young, skinny, and had energy to burn, I loved lying on a blanket on the grass in the backyard with my friends at night.
With sweat, um, perspiration streaming down our scalps from the muggy summer heat, we stared up at the vast expanse of black sky, watching heaven's shimmering constellations. That glorious firmament stretched out like a drape of black velvet, poked with holes as the stars sparkled through like bazillions of glittering flashlights.
No city lights or tall buildings eclipsed our view. No smog clouded our perspective of the universe's immensity.
Stars shine the best in the dark. And the best views of the firmament are away from the obscurity of city lights.
Have you ever marveled at God's creation at night? I'm sure you have gazed up at God's magnificent handiwork as it dazzled you with the brilliance of the cosmos.
God's light is the same; it shines the brightest in our darkest hours and illumines what we need to see: His purpose, His path, and His presence. David sang to the Lord, "Even the darkness will not be dark to You; the night will shine like the day, for darkness is as light to You." (Ps. 139:12 NIV)

Sometimes, we must endure the darkness in order to best see God's Light. Sometimes, the world would like to obscure the glow of heaven with the world's own so-called light.

And sometimes, though, we pull the darkness in on ourselves. We stretch out the veil of unbelief, trials, or disobedience over God's handiwork, over His voice and His purpose, and we eclipse the radiance of heaven's light within us.
Jesus said, "If you live wide-eyed in wonder and belief, your body fills up with light. If you live squinty-eyed in greed and distrust, your body is a dank cellar. Keep your eyes open, your lamp burning, so you don't get musty and murky. Keep your life as well-lighted as your best-lighted room." (Luke 11:25-26 Msg)

When in a dark night of affliction or heartache, don't be squinty-eyed.
Keep the Lord's Light burning.
Gaze up at His brilliance.
Marvel at His creation, at His handiwork in your life.
Lie back on a blanket of faith, resting in the vastness of His presence.
And remember, the Lord will illumine your night sky…
"For You will light my lamp;
the Lord my God will enlighten my darkness."
Ps. 18:28 NKJV
Hooking up with…
Mondays…

Tuesdays…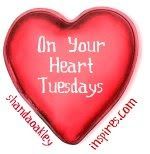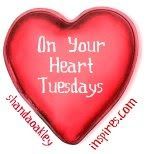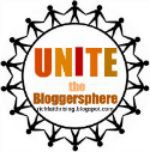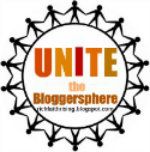 Wednesdays…