Listening to Pandora the other morning, I recognized an old familiar song and, as I hummed along to the instrumental, the words to the title kept swirling around my mind…

Where is your heart? Where is your heart?
(The song, entitled Where is Your Heart, was originally recorded by Percy Faith's orchestra, words by William Engvick and music by Georges Aurie, for the movie Moulin Rouge.)
As I listened, I heard God whisper to my heart, "Where is your heart?" Then, these words of the song shot their arrows into my heart…
It's always like this
I worry and wonder
You're close to me here
But where is your heart?
Of course, He doesn't worry or wonder; He knows exactly where my heart is. But, as the Bridegroom to His Bride, He seeks, in tender and intimate appeal, for an answer from me, "Where is your heart? Does it belong to Me alone?"
So, I search for the answer…
* Where is my heart?
* Is it seeking my beloved Lord above all else?
* Am I having love affairs with other things?
The disciple John cautions, "Do not love the world or anything in the world. If anyone loves the world, the love of the Father is not in him…For the world offers only the lust for physical pleasure, the lust for everything we see, and pride in our possessions. These are not from the Father." (1 John 2:15 NIV, 1 John 2:16 NLT)
Oh, my! Longing for and loving things of the world displaces my love for the Father. Allowing duplicity to move into my heart, I will have an inward turmoil of two masters, and I will then experience what I call the Rebekah Syndrome.
When Rebekah, Isaac's wife, found out "two children struggled with each other in her womb," (Gen. 25:22 NLT), she asked God, "If this is right why am I this way?" (Gen. 25:22 Masoretic Text) The Lord answered her, "Two nations are in your womb." (Gen. 25:23 NKJV)
Two different fellowships desiring my full attention.
Is my attention diverted by too many things, leaving me no time for my Lord? Is my heart out wandering the streets of the world, searching for its pleasures? Or do I spend precious time leaning upon my Beloved's breast as the disciple John did, just to be near Him, or sitting at His feet as Mary did, just to serve Him in worship by pouring out my thanks and my tears as fragrant oil upon His body?
~~Lord, where is my heart? Am I truly seeking You? What have I allowed to move into your Living Room, making itself comfy on the throne that belongs to you? Oh, Lord, search my heart, show me what I worship and desire more than You and dispose of them so that I may love, worship, and serve You with all my heart, all my soul, and all my mind. Amen~~
Questions: Where is your heart? What causes a Rebekah syndrome in you? Ask the Lord what is in your life, whether harmful or seemingly good, that separates you from a holy relationship and deep, intimate fellowship with your Beloved.
Is there anything you love more than the Lord? Jesus asks you…
"Do you love Me more than these?"
(John 21:15b NKJV)


***I'm so sorry. For some reason, my comment box has disappeared. It is in the process of being remedied. Thanks!
Hooking up with…
Thursdays…

Fridays…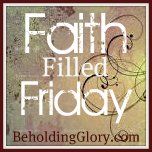 Sundays…