You pray and pray. Exhaustive prayers. You whisper to yourself…

When will the answers come? Does God even hear me?
So, you think your prayers go unheard, unanswered, or forgotten?
Not so! What does Scripture tell us? Our prayers are…
*…not unheard…
David said, "The eyes of the Lord are on the righteous, and His ears are open to their cry." (Ps. 34:15 NKJV) And Peter agreed with David's sentiment, "For the Lord is watching His children, listening to their prayers." (1 Peter 3:12 TLB)
I love the way the Amplified ends Psalm 18:6, "…and my cry came before Him into His [very] ears" and the Good News Translation as well, "…He listened to my cry for help."
He not only hears our prayers, He listens to them! As if He has cupped His hands over His ears, straining to listen to our pleading voices of distress.
Therefore, we can say as the disciple John said, "Now this is the confidence that we have in Him, that if we ask anything according to His will, He hears us. And if we know that He hears us, whatever we ask, we know that we have the petitions that we have asked of Him." (1 John 5:14-15 NKJV)

*…not unanswered...
All prayers are answered: either with a yes, not now, or no!
If Scripture says we have the answer, then why don't we see the answer?
Because we are not on the same timetable as God. We receive our answers on HST..Heavenly Standard Time.
Paul tells us our "prayers…have not gone unnoticed by God!" (Acts 10:4b TLB)

*…not forgotten…
Those savory requests and pleas of our hearts rise as fragrant incense before the Lord and settle at the foot of His throne, filling His presence with a sweet aroma. David said, "Let my prayer be set before You as incense." (Ps. 141:2a NKJV)
Those aromatic prayers are never forgotten; they are preserved in bowls before the Lord as a constant remembrance before Him. John the Revelator tells us, "Now when He had taken the scroll, the four living creatures and the twenty-four elders fell down before the Lamb, each having a harp, and golden bowls full of incense, which are the prayers of the saints." (Rev. 5:8NKJV)
If He saves them, what does He save them for? What will He do with them? Revelation 8:5 tells us that, one day, they will be poured out upon the earth. We are not given a full explanation of this in Scripture.

*What did Jesus say?
"And whatever you ask in My name, that I will do, that the Father may be glorified in the Son. If you ask anything in My name, I will do it." (John 14:13-14 NKJV)
One day, Jesus told His disciples a story "to illustrate their need for constant prayer and to show them that they must keep praying until the answer comes." (Luke 18:1 TLB)
After telling the parable, He said, "So don't you think God will surely give justice to His chosen people who cry out to Him day and night? Will He keep putting them off? I tell you, He will grant justice to them quickly! But when the Son of Man returns, how many will He find on the earth who have faith?" (Luke 18:7b-8 NLT)
How many will be acting in faith? How many will be praying in faith?
So, if we agree with what John said…that if we have confidence in Him and ask according to His will, He hears us, and we know we have the answers to what we ask of Him…then we are asking in faith.
"If you believe, you will receive whatever you ask for in prayer." (Matt. 21:22 NIV)

*What did Spurgeon say?
"Prayer cannot draw down answers from God's throne except it be the earnest prayer of the man who believes."
James said, "The effective, fervent prayer of a righteous man avails much." (James 5:16 NKJV) The Greek translation says, "The prayer of a righteous one has great strength, having been made effective."
The Greek word for avails and strength means to have or exercise power, prevail, be a force, capable of producing results, and so on.
The word for effective and fervent is the word energeo, which means to show self to be active, operative, or efficient, be mighty in, work effectually, putting forth power, and so on. (This word comes from energia, from which we get our word energy.)
If we reworded this, it might say, "The petition of a righteous one has great strength, prevailing force, and is capable of producing results, being made active, operative, and mighty in its working."
So, how do we pray like that if it is not in faith? Those who have prayed effective prayers prayed that way because they expected God to reply.

What is our conclusion?
Pray according to God's will, in faith, and in Jesus' name…to be heard, to be listened to, to not be forgotten….bring needed answers, in God's timing.
Is God listening to you?
Hooking up with…
Mondays…
Tuesdays…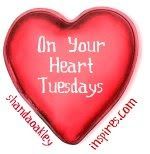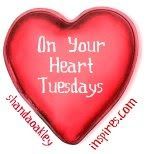 Wednesdays…