"The measure of a woman's character is not
what she gets from her ancestors, but what

she leaves her descendents." ~ unknown
I love that quote. Although, I don't think it is totally true. I don't think it's one or the other; I believe it is both.
An heirloom is a treasured family possession handed down from generation to generation. Something of special value. Of value, whether to the heart, the memory, or the pocketbook!
It is something received as a family gift or in an inheritance.
Years after my precious grandmother died (when I was 13), my grandfather remarried an adorable and sweet woman. We have very few of my grandmother's possessions because they went with my grandfather. After he died, we received nothing. Sometimes, when I think about it, this hurts.
I have a couple of things that my mother had that belonged to my grandmother. But my two favorite special heirlooms, one that belonged to my grandmother and one that belonged to my mother, are…their Bibles.
I have many things that belonged to my mother. If you looked around my house and knew my mother, you would see her everywhere. Almost everything on the bookshelves in the photo belonged to my mother.
I believe an heirloom can either be a physical object or something more personal. The greatest inheritance my mother and grandmother left me is the heirloom of belief in Jesus Christ.
They left me what Paul admonishes Titus to teach the older women to do, "Similarly, teach the older women to live in a way that honors God. They must not slander others or be heavy drinkers. Instead, they should teach others what is good. These older women must train the younger women to love their husbands and their children, to live wisely and be pure, to work in their homes, to do good, and to be submissive to their husbands. Then they will not bring shame on the word of God." (Titus 2:3-5 NLT)
All this, plus grace, strength, and faith, was passed on to me by my mother and my paternal grandmother. (I never knew my maternal grandmother; she died when my mother was nineteen.)
According to the Oxford English Dictionary, heirloom means, "The person who is entitled by law to succeed another in the enjoyment of property or rank, upon the death of the latter; one who so succeeds; in general use, one who receives or is entitled to receive property of any kind as the legal representative of a former owner."
Does that sound to you like what Jesus did for us? After His death, He left us salvation and the forgiveness of our sins, eternal life, justification, the Holy Spirit, peace, comfort, guidance, and more.
David said it best, "O Lord, You are the portion of my inheritance." (Ps. 16:5 NKJV)
David passed on much to his son Solomon, who said, "A good man leaves an inheritance to his children's children." (Prov. 13:22 NKJV)
So, what inheritance am I leaving to my children? What do they consider an heirloom? Do they want anything I have?
If I could leave only one heirloom, one specially valued family possession, to each of my three children and three granddaughters, it would be this…
JESUS!
Do you have an heirloom to leave your children?
Hooking up with…
ChristianWriters.com Check out the other participants in the sidebar.
Mondays…

Tuesdays…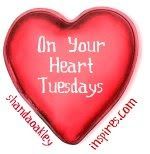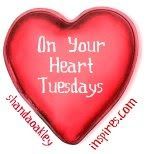 Wednesdays…
Thursdays…
Fridays…