Source
*I found this short story in the back of my file closet. I wrote it from a prompt on a writers' forum, which evolved from another site. The story had to be 300 words or less and must use the prompt, which was from a contest called Color Your World, and the prompt was called In His Hands. Thought it might be fun to share it.
The Secret Lies in His Hands
Once upon a time, a beautiful, verdant valley existed. In this peaceful Eden-like community, safety abounded, yet a warning hung over it.
Ten year-old Hunter Green decided to find out about this warning, so, he asked those in the village, "Why does the valley have boundaries? Why can't we travel outside its limits?"
He asked Mrs. Lemon, Olive Jones, and Mr. Vermillion. He asked his friends Amber, Sandy, and Brownie. But no one had an answer. They all just shrugged their shoulders and said, "Only the King knows. We're just safe in His hands."
Deciding to find out, Hunter packed a tangerine and some wheat crackers in his beige backpack and took off. He passed through Moss Valley, crossed Azure Stream, and came to the foot of Emerald Hill. After much struggling, he finally made his way to the top of the hill.
There, stretched out before him, laid a vista like none other. Only shades of black, white, and gray existed. The lack of color made everything look and feel cold and frightful. He felt empty inside.
Next to him stood a sign that said, "Do not cross this line." After reading this, he realized he had crossed the line, for his purple tennis shoes, his blue jeans, and his khaki shirt had all lost their color, and his once peachy-cream skin was now a dull gray.
Frightened, he ran all the way back to the village and right into the King's chambers. Crying, he fell at the King's feet, "Oh, King. I'm so sorry. I went beyond the limit. I'll never do it again. Please forgive me."
The King replied, "It's all right, My son. You're forgiven. The boundaries are for your safety and protection. The secret to the beauty of life lies in the palms of My hands."
Hooking up with…
Thursdays…

Fridays…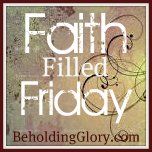 Sundays…