Glaring typos. Boo-boos. Misspellings. Incorrect punctuation. Misuse of words. Paragraphs too long…yada-yada-yada!
Mistakes. They seem to proliferate these days in writing. Everyone is in a rush to type (can you still call it typing?), text, comment, tweet, and the English language gets clobbered.
I'm a little off track today. Maybe I'm just letting off steam. Hmmm…maybe not.
When I see numerous flaws glaring at me at the beginning of someone's email for their new post or a comment on Facebook or Twitter, or someone's article, devotional, book, or story on someone's site, I don't read any further. It's hard to turn off than internal editor.
Don't misunderstand me; I'm not being critical and I'm not saying I'm perfect. F-a-a-a-a-r from it! We all make typos and mistakes now and then. But those that know better should be writing better. Or maybe it's just that they don't know better.
All this makes me take a look at myself and ask: how are others reading me? Oh, I don't mean my writing…well, I do, but that's not my point. I mean me, personally.
How do others read my actions, my words? What kind of Christian am I? Do I exhibit flaws that turn others away? Don't I know better?
One of my greatest prayers is what David prayed, "O Lord God…don't let me be a stumbling block to those who trust in You. O God…don't let me cause them to be confused." (Ps. 69:6 TLB)
Imperfections and even sins are sometimes glaringly obvious to others but obscured to us. David also prayed, "But how can I ever know what sins are lurking in my heart? Cleanse me from these hidden faults." (Ps. 19:12 TLB)
In writing to the Romans, Paul told them not to be critical of one another, but he said, "If we must be critical, let us be critical of our own conduct and see that we do nothing to make a brother stumble or fall." (Rom. 14:13 Phillips)
I want to KNOW better; I want to DO better!
Lord, show me and cleanse me of those hidden faults and flaws in my heart that pop out in words and actions which are unappealing and glaringly obvious to others.
How are others reading you?
Tuesdays…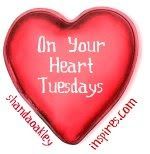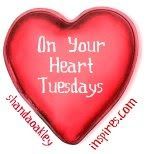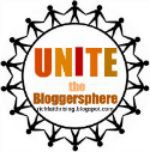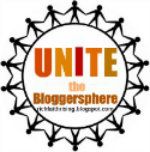 Wednesdays…