She sits in her Pop's lap, cuddled close to him (who loves her intensely). Her head rests on his chest, her thumb rests in her mouth. His head rests on hers. Both of them wrapped up in a fuzzy blue blankey.
She loves her Pop and her favorite thing is to cuddle with him. And her Pop? Oh, my, how he loves it! Probably more than she does. Sometimes, I think his heart will explode with love.
When she sits in his lap, she never struggles, because she loves to be with him. She's the picture of trust: rest, comfort, and peace.
After I posted The Secret Hiding Place a couple of weeks ago, a friend commented on Facebook on my post and left this phrase (that she heard somewhere):

Snuggle, don't struggle.
So, do we struggle against the Father, our heavenly Pop, while He is trying to hold onto us?
Or do we love and trust Him, grabbing our spiritual blankey and crawling up in His lap, just to snuggle with Him, to feel that sense of rest, comfort, and peace? Don't you know He loves it more than you do, and His heart explodes with love for you?
"…rest is your salvation,
in quietness and trust is your strength…"
(Is. 30:15 NIV)
"I am quiet now before the Lord, just as a child…"
(Ps. 131:2 TLB)
Hooking up with…
Thursdays…

Fridays…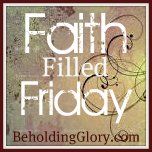 Sundays…