Source
School time! Ahh, the smell of pencils, crayons, and dirty gym shorts!
When those darling school-goers were very young, we all, as parents, gave them crayons and coloring looks to teach them their colors, to learn to color within the lines, and to learn structure.
Remember those early pictures your babies colored, the ones that ended up on your fridge? They consisted of a multitude of colors or a beautiful monochromatic look of blurry scribbles going every which way on the page. Not great works of art but great works of the heart. Messy scribbles and all.
Not until they matured a few years were they able to stay within the lines.
Now in some instances, parents encourage their children to ignore the lines, to color outside the guidelines, to be different, so as not to be conformed to the norm or to be put in a box.
And occasionally, this is a good thing. Where would we be without any innovative thinkers, those who take chances, depart from the accepted course? This is helpful. How would there otherwise be those who discover cures for diseases, who build towering buildings or enormous spacecrafts, who invent new technologies that impact our health and well being?
However, when it comes to our spiritual life, wandering outside the lines is not helpful at all.
We need, and hopefully want, those guidelines of the Lord from His Word to keep us living within that narrow way. When we color our life outside His lines of permission and protection, we end up with a mess, just like those drawings.
As we mature in our Christian walk, pleasing the Lord and living within His purpose should be our highest aim. His boundaries serve a critical purpose. We actually thrive in His loving restraints; we find freedom within His structured design.
In ancient times, no fences marked the perimeters of fields. Owners sometimes used rocks to mark boundary lines, which were easily moved and the borders then transgressed. One who moved his neighbor's landmarks was, by law, cursed.
Solomon said, "Do not move an ancient boundary stone set up by your forefathers." (Prov. 22:28 NIV) In some cases, no stones were used and the dividing lines became blurred.
Sometimes, we press against God's boundaries and try to blur those definitive lines. Or we try to move that Rock (Christ) out of our way to go play in the world's field.
But God has clearly drawn His lines in blood, lines we are not to transgress. Without the confines of His limits, we will wander out of God's field of provision and protection.
When we mature in the faith, we are able to resist the colors of the world and stay within the limitations of His borders.
Paul exhorts us to be separate from the world, "Come out from among them and be separate, says the Lord. Do not touch what is unclean, and I will receive you." (2 Cor. 6:17 NKJV)
According to the definitions, Lynn's Version might say, "Come out from among the worldly ways of thinking and the unbelievers and be set off by boundaries, limiting and dividing yourself from them. Separating yourself from whatever is impure; do not attach or adhere yourself to whatever the world has to offer, anything that is unclean in thought or life, and I will receive you into My Presence and treat you kindly with favor."
The lines between God and the world are becoming more blurred everyday; even Christians are breaking outside the boundary lines and doing whatever they desire.
Let's put the Rock back where it belongs. Let's get back to coloring within the lines.
Have you gone outside the lines lately?
Hooking up with…
Thursdays…
Fridays…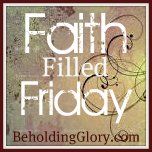 Sundays…