"For He has clothed me with garments of salvation
and draped about me the robe of righteousness."
(Is. 61:10 TLB)
God wrapped a covering of deliverance, prosperity, rescue, liberty, safety, welfare, and victory around me as a believer, to cover and clothe me in His garment of rightness, justice, and virtue.
Why? David said, "For the Lord takes pleasure in His people; He will beautify the humble with salvation." (Ps. 149:4 NKJV)
In His pleasure, He clothed me in a robe of spiritual refinement beyond compare, beautifying my soul with heavenly grace. I cannot work to purchase this robe or work to keep it, no matter how hard I try.
This robe cannot be rented, and it cannot be put on lay-away. It cannot be tried on for a while and, then, taken off.
It is a forever gift…but it was not free. It came with a great price tag to the Purchaser: the blood of Jesus.
Jesus told The Parable of the Wedding Feast in Matthew 22 about the king who arranged a marriage for his son. When the king went to greet his guests, he spotted a man without a wedding garment.
It was the custom of many countries in Jesus' day to wear long, white robes at public festivals, weddings, and other occasions. Royalty and the wealthy provided wedding garments for those invited to a wedding. Noblemen also gave a garment to someone they wished to honor.
Refusing to accept or wear the gifted garment was not only the highest insult and deepest disrespect, but, in some countries, also worthy of punishment.
The robeless attendee to this wedding presumptuously entered in his own attire, in his own way, without the garment given him by the king and, therefore, he dishonored the king.

As Christ died to purchase my wedding garment, I cannot enter the heavenly wedding feast without it.
So, what am I to do with this gifted garment? How do I wear my regal robe of righteousness, my beautiful wedding garment…
* inside out?
* backwards?
* upside down?
* casually tied around my waist or over my shoulder?
* all rumpled and scrunched up?
Do I drag my robe of beauty through the mud of disobedience? Crushed by Israel's adulterous behavior and attitude, God said to them, "You dragged your beauty through the mud." (Ezek. 16:25a GNB)
What do I do to de-beautify my robe? What is my behavior beneath it? Do I use it to hide under or try to throw it off to misbehave?
In the past, I would sometimes squirm beneath it or struggle to throw it off, to act and do the way I wanted to. But instead, Paul reminded me to "Throw off your old sinful nature and your former way of life, which is corrupted by lust and deception. Instead, let the Spirit renew your thoughts and attitudes. Put on your new nature, created to be like God—truly righteous and holy." (Eph. 4:22-24 NLT)
And I've learned to follow Paul's other advice, "Instead, clothe yourself with the presence of the Lord Jesus Christ. And don't let yourself think about ways to indulge your evil desires." (Rom. 13:14 NLT)
When I first tried it on, it felt uncomfortable and scratchy like burlap. It felt as though it didn't fit right; it was too large.
But now, I think I'm growing into it! It's comfy, falling in velvety smooth folds of peace and joy around me. I love twirling around in it and praising the Lord, for He has given me "the garment of praise for the spirit of heaviness." (Is. 61:3 NKJV)
So, wherever I go and whatever I do, I must remind myself I am clothed with Christ's presence, with His robe of holiness, and, therefore, I must keep that robe clean and unscrunched!

How are you wearing your precious robe? Is it all scrunched up?
Hooking up with…
Thursdays…

Fridays…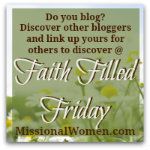 Sundays…