No, this isn't a Thanksgiving post. And yes, this is a thanksgiving post!
I did an exercise in brevity some time ago as a prompt from a writers' group. Using only six words, one of mine went like this…
Got troubles?
Got heartaches?
Get God!
On the same day as the prompt, one of my devotional books used the Scripture Philippians 4:6 for its basis, "Be anxious for nothing, but in everything by prayer and supplication, with thanksgiving, let your requests be made known to God." (Phil. 4:6 NKJV)
Do we really think about and obey this verse? With all the stress that bombards us these days, it is sometimes difficult to stay on track with the Word.
With issues going on in our family and extended family at that time, the highest thing on my mind was and still is: be anxious for nothing. May no distracting thoughts drain my focus away from the Lord.
I learned a long time ago to praise the Lord when anything begins to stir up the still waters of my heart and mind.
Praise and thanksgiving form the foundation of our prayers. Every trifling tremor of turmoil attempting to upset our harmony is to be brought to the foot of the Throne…and left there! Praising God for His hand at work in whatever it is.
If we obey that verse, what does the next verse promise us? "Then you will experience God's peace, which exceeds anything we can understand. His peace will guard your hearts and minds as you live in Christ Jesus." (Phil. 4:7 NLT)
You may be having tremendous difficulties in your life right now, but I pray that you will give the Lord your praise and gratitude, revealing to Him your trust and faith.

May you experience the Lord's peace as you give Him praise!
Hooking up with…
Mondays…

Tuesdays…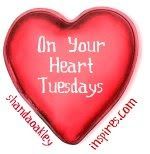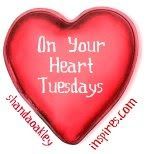 Wednesdays…