There once was a little girl who loved her daddy more than anything. She was definitely a Daddy's girl. She loved going places with her father, skipping along in joy beside him, trying to keep up with his footsteps, just to be near him.
Whenever her father needed to leave the house, she begged to go with him. Many times, he agreed and took her with him. Some mornings, when she asked to go, he would say, "I'm sorry, sweetie. Not right now. I have to go to work so I can provide for you, but I will be back later. Remember, I am always with you in your heart."
Disappointed but knowing her daddy would return and be with her left her with joy throughout her day.
The two of them always enjoyed being together wherever they went, whatever they did.
One day, the little girl begged to go and Daddy said, "Okay. Today, I shall take you on an adventure. You'll encounter some new things, some may be a little scary, but at the end of it, you will be overjoyed. Are you ready?"
"As long as you'll be with me, I'll go where you go, Daddy."
"Let's go!"
Daddy took his daughter to the city, a new experience for the little girl. Some place she had never been there before. As they walked the city sidewalk, cars in the street sped by, horns blaring, startling the little girl. People rushed by, bumping into them. Loud noises and funny smells upset the young girl.
With so much clamor and confusion going on around her, the little girl was frightened and drew closer to her father, "Hold my hand, Daddy!" she pleaded. "I'm scared!"
"Not to worry, sweetie. I'm right here by your side. Hold my hand tight and nothing will happen to you. We must go through all this clamor and chaos in order to get to a new place. You will be glad we went through it all to get there."
"Okay, Daddy. I trust you," she said, clinging to him as they walked to this mysterious place.
She trusted her daddy to be by her side, to protect and take care of her. Staying be his side comforted her. "Are we there yet, Daddy?"
"Just a little bit longer, dear. Almost there. Don't be frightened. I'm always beside you."
The journey seemed endless to the little girl, but she never let go of her daddy's hand. So many times, she asked, "Are we there yet?"
"Not much longer. It's just around the next corner. I know you're getting tired, but you will be so relieved once we get there, and you won't regret the long way here."
They followed the sidewalk as it turned a corner and, suddenly, before her eyes was a big surprise…
"Well, was it worth it?" asked Daddy.
Though the way may be scary through any trial or heartache, we know the way goes better when we're holding God's hand, trusting Him to get us to the other side safely.
"For I hold you by your right hand—I, the Lord your God.
And I say to you,
"Don't be afraid. I am here to help you."
(Is. 41:13 NLT)
Hooking up with…
Mondays…

Tuesdays…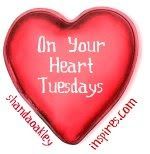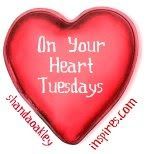 Wednesdays…