I went to a funeral the other day. The sanctuary held around 800 people. The man was a great, godly man. A man with God's fingerprints all over his heart. And he left those same fingerprints on the hearts of many others.
As I sat there, listening to the stories of things he had done for others, I thought of those who had left their impact on my life, their precious fingerprints on my heart…
* my parents
* my maternal grandfather (I never knew my maternal grandmother; she died at a young age.)
* my paternal grandparents (especially my grandmother, whom I adored)
* my husband
* my children
* my sisters and brother
* my sisters-in-law, brothers-in-law, nieces, nephews, and the rest of my family and my husband's family
* friends
* and now my grandchildren
But there are others: Sunday school teachers and pastors, friends from my youth at church, school teachers, school friends, church friends, friends of my parents, cyber-friends, and even strangers.
They have all left an impression on my heart.
As I sat at the funeral, with tears welling up in my eyes, I realized that I was crying not only for the loss of a friend's husband but also for myself. I wondered…
* Who are the ones that I have touched?
* Have I been an influence on any life?
* What impact have I left on the hearts of others? Is it positive or negative?
* What memories of me would others have?
And who would come to my funeral? I think it could probably be held in a closet.
Other than family, a few others might attend my send-off celebration. My isolation, my seclusion caused by fibromyalgia, has stripped friends from me and the ability to do certain things.
However, God has allowed this time to do something new in my life, something unexpected. He has given me the passion to write, to reach out across the internet and touch the precious lives of others, for which I am extremely grateful.
I wonder, though, in this rush-about, drive-thru, treadmill world we live, if we are living the life Christ desires us to live. Are we striving to make a good impression on others? Paul said, "Don't be selfish; don't try to impress others." (Phil. 2:3a TLB)
Making a good impression is not to be our focus; however, we will impress them in one way or another by the way we live.
Someone once said, "Once someone touches your heart, the fingerprints will last forever." Therefore, we all need to ask ourselves…
* Have I left my fingerprints on the hearts of others?
* Have I made a positive impression or a negative one?
* How shall I live to positively touch the heart and soul of another?
Three verses from Paul tell us…
* "Be humble, thinking of others as better than yourselves." (Phil. 2:3b TLB)
* "Your love for one another will prove to the world that you are my disciples." (John 13:35 NLT)
* "Love each other with genuine affection, and take delight in honoring each other." (Rom. 12:10 NLT)

What lasting fingerprints are on your heart? What lasting fingerprints are you leaving on others?
~Lord, You have left Your precious fingerprints all over my heart. May I strive to live a life that reflects Your life in all I say and do, so that I may leave loving fingerprints on the hearts of others, fingerprints that resemble Yours. Amen!
Hooking up with…
Mondays…

Tuesdays…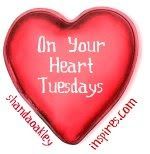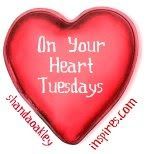 Wednesdays…