Buts! We all have them. I mean the verbal kind.

Excuses, excuses! We all make them.
* I'm afraid
* Me? Never!
* It's too hard
* I can't do this
* I don't want to
* I'm too whatever
* I never learned to…
* Someone will laugh at me
* I don't have that talent/gift
* I've never done this before
* Why should I be the one to…
We aren't satisfied with those, so we start inserting the negative in with the positive by adding the but…
* I like my job but…
* It's great day but…
* My wife is caring but…
* My husband is kind but…
* He's a great worker but…
* She's my best friend but…
* My children are good but…
* We had a wonderful time but…
* The people at work are nice but…
I know. Some buts are necessary to explain circumstances. However, I think we have fallen into a but pit!

We limit ourselves with all the buts. We kill our joy and positive thinking with all the negatives! Negatives are fetters that bind us to earth, tether our souls to the world and keep us from soaring in the heavenlies.

For every negative, we need to substitute a positive.
How many negatives and buts do we put into our prayers? We expect an outcome to be positive, so we pray how? With a negative, I can't… I'm not…But if You don't…I trust You, Lord, but…

Instead, we should add plenty of positives by worshiping, praising, and thanking God for the answers, for what He is doing and will do, and just for Who He is.
And what about after we pray? What do we do? If we pray positively, we go right back to speaking the buts and the negatives. Out of our mouth comes: I prayed and believed but I don't think God will work it out for me. I know God is good but…
Solomon warned, "Keep your heart with all diligence, for out of it are the issues of life." (Prov. 4:23 Masoretic Text) Another version says, "Be careful what you think, because your thoughts run your life." (New Century Version) And so do your words!
Knowing the consequences of his thoughts and words, David was wise to pray, "Take control of what I say, O Lord, and guard my lips." (Ps. 141:3 NLT)
I've learned that thankfulness and praise are the best replacements for any complaints, turning each negative into a positive.
Have "you confessed the good confession" lately? (1 Tim. 6:12 Amp)
Negativity will always make our but look big. I hope my but is shrinking! (Ha! In more ways than one!) However, God is always bigger than my but!
So, how's your but?
Hooking up with…
Thursdays…

Fridays…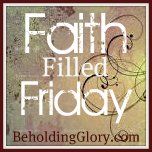 Sundays…