Clean up time! This time of year, the die-hard gardeners have been cleaning up all the dead leftovers from last year's garden. Tenderly caring for their plots every year, they…
*prune and weed for better growth
*embed stakes in the soil for plants to have strength to grow
*purposely sow seeds for the harvest they desire.
As I studied Revelation 3:19 one day, God plopped a thought into my head. Love it when He does that!
Here…I'll show you…
In Revelation 3:19, the Lord says, "As many as I love, I rebuke and chasten. Therefore be zealous and repent." (NKJV)
What does that have to do with a garden? Let's see.
As I study a verse, I look up the meanings of the words. For instance…
*love used here is the Greek word phileo, meaning to be a friend, fond of, to kiss, be kindly disposed to one, more nearly represents tender affection.
*rebuke means to admonish, convict, correct, reprove, chasten, punish.
*chasten primarily means to train up a child, educate, discipline, correct.
*zealous means to desire earnestly, pursue, strive after, busy oneself about, covet.
*repent used here means to think differently, reconsider, to change one's mind.
Doesn't sound anything like a garden, you say? God showed me to think of it this way: He is the Great Gardener of the garden of my life. Yes, I know, we've all heard this before. However, if He loves us, which He does, He says, "As many as I love, I clean up their garden."
Jesus said, "I am the true grapevine, and My Father is the gardener. He cuts off every branch of Mine that doesn't produce fruit, and He prunes the branches that do bear fruit so they will produce even more. You have already been pruned and purified by the message I have given you. Remain in Me, and I will remain in you. For a branch cannot produce fruit if it is severed from the vine, and you cannot be fruitful unless you remain in Me." (John 15:1-4 NLT)
Therefore, how can my life be a beautiful, fragrant garden, inviting to others, if there is no upkeep? Who wants to look at a garden of weeds and ugly overgrowth?
If I cling to the weeds of sin and the overgrowth of disobedience and circumstances in my life, then they will smother His presence within me, and I will be fruitless. Jesus said, "You can't produce anything without Me." (John 15:5 GW) Another version says, "Without Me, you will accomplish nothing." (VOICE)
If I desire to be fruitful, I must reconsider what I'm doing, repent and be zealous of God's discipline and teaching in my life and allow Him to…
*prune me,
*pull up the weeds,
*kick out the garden-eaters,
*fasten His stakes of strength,
*and sow His seeds of the Word for the harvest He desires in my life.
He will discipline me anyway, so it is to my advantage to let go and agree with Him.
God says, "Let Me share the tending of the garden of your life."
"Joyful are those You discipline, Lord, those You teach with
Your instructions. You give them relief from troubled times."
(Ps. 94:12-13a NLT)
Fridays…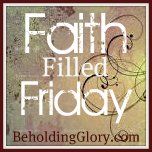 Sundays…