Ever get a pebble in your shoe and think, Now, where did that come from?
I'm a sock person. I wear socks a lot and, every once in a while, I find the tiniest bit of something irritating my foot. I turn my sock inside out, only to find a barely visible piece of grit. I shake my sock and get rid of it.

Irritations, like pebbles, come in all sizes. We all have them at one time or another. Whether in our socks or in our spirits.
Usually, we struggle not with the boulders in our life's path but with the small pebbles. The boulders we can generally walk around. But the pebbles? They end up causing us to stumble, fall, or just be irritated.

They are like little stumbling blocks, little annoyances that get under our skin and in our spirit. They elicit ungracious thoughts that pop out of our hearts or mouths that shouldn't. Or to just stay hidden in our thoughts.
Guess who just loves to initiate those pebble attacks? The enemy. His vexations can come out of nowhere, like…
*someone has an opposing opinion of your beliefs and unloads a barrage of venomous words about it
*someone pulls out in front of you while driving and lets you know it's your fault
*you break a fingernail just before you're ready to go somewhere special
*the phone won't stop ringing while you're trying to do something
*your kids aren't playing nicely together
*you drop half your lunch on the floor
*the water company overcharges you
*a friend won't keep his/her word
*odd habits of your spouse
*a paper cut
*on and on, ad nauseum!

Even the smallest grit can get in our spirit and irritate us.
Irritations will boot joy and praise right out the front door. And the enemy's laughter will be almost audible. He hates our joy and praise. He gets a kick out of upsetting us, tripping us over little things. He relishes knocking "us down with a straw…Most of us manage better in our great struggles than we do in our minor ones." (A.B. Simpson)

We have a choice. If we harbor those pebbles of irritation, we do not have a clear conscience before God. Paul said, "I myself always strive to have a conscience without offense toward God and men." (Acts 24:16 NKJV) By definition, an offense is a stumblingblock.
However, to counteract those stumblingblocks, we can choose joy and praise, which will ring the enemy's death-knell. (See Praise is the Devil's Death-knell)

The worst sound in the ears of the enemy is praise from the lips of one of God's children. The enemy hates it. Praise gets the attention of both God and the enemy!
So, next time your socks get full of irritating grit and you wonder, where did that come from, turn those irritations inside out and get rid of them. Oysterize that grit into pearls of praise!

May your joy and praise kick out the grit and knock your socks off!
Hooking up with…
Thursdays…

Fridays…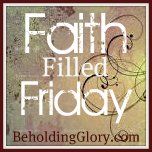 Sundays…