Sometimes, a verse of Scripture stops me in my tracks. I sit in silence, staring at it and allowing it to soak deep within me. I search my Bible program, concordances, Lexicons, and commentaries to collect what I can for deeper understanding. I thought I'd share one.
One of my recent ponderings is Mark 12:24. Jesus said to the Sadducees, "Is not this where you wander out of the way and go wrong, because you know neither the Scriptures nor the power of God?" (Amplified)
Wander out of the way in other versions is err, error, mistaken, or wrong. It means to roam (from safety, truth, or virtue), to cause or lead astray or into error, to deceive, or to seduce. Power means miraculous power, force, strength, and ability.

Wow! Selah! Pause, interrupt what you're doing and think about that!
We are led astray, deceived, seduced away from God's path of righteous living. Why? All because we do not know God's miraculous power, force, strength, and ability or His Word. Not just the words on those thin pages of our Bibles but the deep-down stuff. The launch-out-into-the-deep-and-let-down-your-nets-for-a-catch kind. (Luke 5:4) The dig-down-into-the-meaning-of-the-words-and-reap-a-treasure kind.
I can read the words off the page until my eyes cross, but if I do not dig down in search of God's treasures and absorb the Word into my heart, soul, and spirit, I will always wander out of the way.

"I rejoice in Your word like one who discovers a great treasure."
(Ps. 119:162 NLT)
How much of the God-life am I missing? How much are you missing?
Just pondering…
Hooking up with…
Thursdays…

Fridays…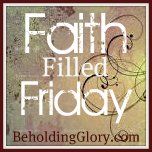 Sundays..
.