Source
"I will greatly rejoice in the LORD,
my soul shall be joyful in my God;
for He has clothed me with the garments of salvation,
He has covered me with the robe of righteousness,
as a bridegroom decks himself with ornaments,
and as a bride adorns herself with her jewels."
(Is. 61:10 NKJV)
He shuffled his feet and wiped his sweaty palms on his jacket. His face twitched, producing a peculiar, cockeyed smile. Then, the bride began her promenade down the aisle, and the groom's whole body radiated with delight.
They were so anxious to look their best for each other. All decked out in their wedding finery, he, fit to meet the bride; she, fit to meet the bridegroom.
As I sat in the chapel praying for them, the thought occurred to me: Jesus is fit and ready to meet me, His Bride, but am I fit and ready to meet Him, my Bridegroom?
If Jesus died that the church, His bride, might be "without spot or wrinkle or any other defect – holy and unblemished" (Eph. 5:27a Weymouth), then she is to "Be prepared – all dressed and ready – for (her) Lord's return," (Luke 12:35-36a TLB).
But when the heavenly Bridegroom arrives, will she be dressed in an old rag, spotted with worldly residue? Or will she be "a bride beautifully dressed for her husband" (Rev. 21:2 NIV), in a spotless gown of holiness?
"So then, dear friends, since you are looking forward to this, make every effort to be found spotless, blameless and at peace with Him." (2 Peter 3:14 NIV)
Is your oil ready?
Your lamp burning?
Your heart prepared?
Your wedding garment cleansed?
Are you ready to be snatched away in the blink of an eye?

"The appointed time has been winding down and it has grown very short."
(1 Cor. 7:29 Amp)
Will He radiate with delight in you, His bride?
PRAYER: Lord, You loved me enough to die to give me a pure wedding garment of holiness. May I love You enough to keep that gown unsullied from the world and meet You in holiness on Your return. May I be continually dressed and ready to go at a moment's notice. Amen!
Tuesdays…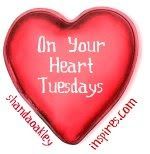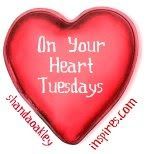 Wednesdays…