Source
A man worked for a large supply company that had a multitude of divisions. As the Chief Supply Officer, he managed supplies for all employees of local and national districts.
Every workday, employees of the company, divisional managers, and corporate officers came to him for all they needed from inventory to run their territory.
All day long, he fulfilled requests and made promises for future fulfillment of those things not yet available: Yes, go down to supply and have your request filled immediately; yes, I'll have it for you by noon; yes, that will be ready for you next month.
Everyone trusted him more than any other department head. They presented him with their requests by leaving them on his desk, having faith in his word they would be fulfilled.
This man loved his job and all those he worked with. He hated to disappoint them, but once in a while, he had to tell a petitioner what s/he requested was impossible to supply, either because it was discontinued, did not exist, was on back order, was not available due to certain circumstances, or was the wrong solution for their needs.
So, though there was an occasional disappointment, the employees trusted the manager's wisdom. They never needed to beg him or needle him asking when or where some item would arrive. Whatever they needed came just at the right time.
Did the employees act on their faith in the manager and his promises, or did they doubt his word that their needs would be fulfilled and grumble incessantly? Did they understand when they received a non-fulfilled request or when told a replacement would have to do?

What does the Bible tell us about God's Word and His promises?
* "Does He speak and then not act? Does He promise and not fulfill?" (Num. 23:19b NIV)
* "Not one of all the Lord's good promises to the house of Israel failed; every one was fulfilled."
(Josh. 21:45 NIV)
* "…not one of all the good promises the Lord your God gave you has failed. Every promise has been fulfilled; not one has failed." (Josh 23:14 NIV)
After Solomon's dedicatory prayer of the temple, he turned to the people and said of God, "There has not failed one word of all His good promise." (1 Kings 8:56b NKJV) The original Hebrew text says, "Not one word of all His good word has fallen." (1 Kings 8:56b Masoretic Text) Or defined, it means not one word has been cast down, failed, or fallen short.
When old Mrs. Abraham laughed at overhearing the Lord tell Mr. Abraham that she would have a baby in her old age, the Lord asked Mr. A why Sarah had laughed, and then asked, "Is anything too difficult for Jehovah?" (Gen. 18:14 Mas)
If we look at the definitions in this verse, we might reword it this way, "Is the word or the promise of the Lord too marvelous or extraordinary as being beyond His power to perform it?"
When the angel Gabriel visited Mary, he used the same words only in the form of a statement. He said to her, "With God nothing will be impossible." (Luke 1:37 NKJV) I love this. The literal Greek says, "Because not will be impossible with God every word." (Luke 1:37 Received Greek Text)
I love the way the Amplified states it. According to the definitions, it says, "For with God nothing is ever impossible and no word from God shall be without power or impossible of fulfillment." Isn't that awesome?
Paul told the Romans that to receive a promise of God "is the outcome of faith and depends [entirely] on faith, in order that it might be given as an act of grace." (Rom 4:16a Amp)
So, when we bring our petitions before the Chief Supply Officer of heaven's inventory and present Him our list of needs, do we leave them on His desk, knowing full well He will supply them, according to His promises, His will, and in His time? Or do we beg Him for an answer or doubt His Word and grumble incessantly?
What is the outcome of your faith?
Is God's Word beyond His power to perform it?
Do you trust the promises of your Chief Supply Officer?
Hooking up with…
Thursdays…

Fridays…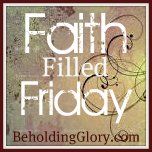 Sundays…