"That very same day, as God had said to him."
Gen. 17:23 NKJV
Abraham. When I think of him, I think of obedience.
God asked him…
*…to go to an unknown place, "Leave your country, your people and your father's household and go to the land I will show you." (Gen. 12:1 NIV) "So Abram departed as the Lord had instructed." (Gen. 12:4 NLT) Without questioning or "knowing where he was going" (Heb. 11:8b NKJV), he went.
*…to circumcise his son Ishmael at the age of thirteen. and every male in his household. Abraham was also circumcised…at 99 years old. Abraham obeyed, "On that very day." (Gen. 17:23 NIV)
*…and the biggest commandment of all…to kill his only son of promise, "offer him there as a burnt offering on one of the mountains of which I shall tell you." (Gen. 22:2
NKJV)
Luther wrote that a "true believer will crucify the question, 'Why?' He will obey without questioning."
Abraham "believed in the Lord" and the Lord trusted Abraham, saying, "For Abraham will certainly become a great and mighty nation, and all the nations of the earth will be blessed through him. I have singled him out so that he will direct his sons and their families to keep the way of the Lord by doing what is right and just. Then I will do for Abraham all that I have promised." (Gen. 18:18-19 NLT)
Abraham did not delay his obedience. And the Lord blessed him mightily.
Delayed obedience is disobedience; however, it is still better than not obeying at all. Just think Jonah!
God asked Jonah to do one thing…
*…go preach to Nineveh.
As the center of the Assyrian empire, Nineveh was a great and wicked, but beautiful, city. Because Nineveh was Israel's enemy, Jonah didn't want to see them spared, so he refused. He turned left out of Nineveh and went in the opposite direction, two thousand miles away to Tarshish. Major runaway!
However, he didn't get to see much of the city as his accommodations ended up being in the dark crypt of an enormous fish. With seaweed in his hair and the smell of plankton on his skin, he changed his mind and decided to obey.
God spared Nineveh when all the people repented and turned to Him. The book of Jonah ends abruptly, as if part is missing. It ends with Jonah in a huff over God's goodness to Nineveh.
When God gives a command or a duty to perform, He expects immediate obedience, unless He has specifically given a timeframe.
When God asks us to do something, we need to ask ourselves…
*Who suffers if I do not obey?
*What will not get done if I procrastinate?
*Will God give the task to someone else?
*What will be my discipline for not obeying?
What makes God's heart happy? His child with an Abraham-heart of obedience. What breaks His heart and puts a kink in His plan? His child with a Jonah-heart of disobedience.

Immediate obedience is the only true obedience.
Which outcome is preferable: Abraham's or Jonah's? Which do you choose?
"So all who put their faith in Christ share the same
blessing Abraham received because of his faith."
Gal. 3:9 NLT
Hooking up with…
Thursdays…

Fridays…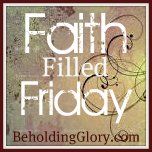 Sundays…