I turn down the thermostat on the furnace for the night.
Turn off the computer and TV.
Grab my glass of filtered water and head for the bedroom.
Hubs turns out the lights and checks the doors and tries to get the dog to go out one more time. But she won't go out.
I brush my teeth.
Put on my PJs.
And take care of the rest of my night-time rituals.
I plop into bed. Slather on the hand lotion and turn out…oops! Forgot again to turn off the light first! Works better that way.
I crawl under the blue, quilted coverlet with the fleece blanket on top of it, tuck up my socked-feet in my usual fetal position, and pull up the covers around my chin.
Hubs gets in and turns out the lamp on his side.
I turn on the TV for a few moments (another rerun of M.A.S.H); it helps put master and me to sleep. It sucks the junk out of my day-filled brain and lulls hubs to sleep.
All snuggled down and comfy.
Then, out of the corner of my eye, I see two, black, pointy ears sticking up. Not wanting to move to give it away that I'm aware, I slowly turn my eyes to look, making sure not to move my head, because I know what I'll see. Yup, sure enough, I see the silly, inherited dog staring at me.
She wants me to let her out. I don't move a muscle. She gives up and walks to the other side of the bed and stares at her master. She does this sometimes.
Most often, she times it perfectly just as hubs has undressed and now wants to go out. The dog, not hubs.
She won't obey the command to go outside before bed and now she wants out.
When we're already in bed, one of us gets up; usually, it's not me.
How patient hubs is with her delayed obedience. Me? Not so much.
Makes me think: How many times do I delay obedience and then attempt to obey later? I wonder how patient my Master is with my delayed obedience.
No wondering; I know.
Hooking up with…
Mondays…

Tuesdays…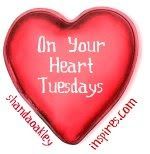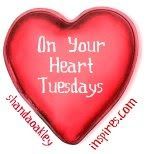 Wednesdays…