Okay, gang, this is completely off the chart for me. Just something fun for me to do.
This month's Christianwriters.com's blog chain topic is opportunity. Since I love posting around Valentine's Day, I have tried for the last month to figure out how I would work it in with opportunity.
(Okay, men, don't disappear on me. I promise you'll like it!)
I've always loved decorating, diy-ing, crafting, etc., and so love those types of blogs. Debbie at debbiedoos.com and Shannon at FoxHollowCottage.com started a fun linkup party: see what you can do with purchases from the Dollar Tree for Valentine's Day!
Since my blog is not part of the decorating/diy/craft group, but since I went to the Dollar Tree the other day to gorge myself on fun things to decorate my kitchen table, I thought I'd take the opportunity to jump in and join the linkup party.
But alas, I was too late! It ended January 27th. Boo!
However, I had so much fun fixing up the table that I thought I'd go ahead with my idea anyway.
I love changing my table for seasons and special holidays. Just something that makes me happy. As you can see in the photo above, I went overboard! Ha! Just for fun!
All that excitement and arranging makes me think of a future table: that great wedding banquet table in heaven for the greatest feast ever…for the Bride of Christ and Her Beloved.
The opportunity part? To take this opportunity, out of a heart of love for each of you, dear readers, to make sure I get to see you at that heavenly feast.
At the close of The Parable of the Wedding Feast in Matthew 22, Jesus stated, "For many are called, but few are chosen." (verse 14 NKJV) Or by definition, many are invited but few RSVP and allowed to enter.
Have you accepted the Bridegroom's gracious proposal? Or have you said "no thanks" to His invitation? Or have you said "yes" but are unsure you will be part of His snatching away?
Peter pleads, "So, friends, confirm God's invitation to you, His choice of you. Don't put it off; do it now. Do this, and you'll have your life on a firm footing, the streets paved and the way wide open into the eternal kingdom of our Master and Savior, Jesus Christ." (2 Peter 1:10-11 Msg)
And you will be assured a place at the table to dine on the most sumptuous delicacies you have ever tasted. You will dine with royalty, with family, with friends, and with the Lord Himself.
Therefore, listen for that heavenly dinner-bell-call to come Home.
Three years ago, I wrote a post called Come Home, It's Suppertime! (Click it to read it.) Here's a portion of it:
When I was growing up, my mother used a bell to call me home for dinner. This is when kids played outside until the very last minute of sunlight and air conditioning existed mainly as a bright idea. But when I heard that bell ring, it meant come home, now! It's suppertime! Time to join the family around the dinner table…

In my spirit, I imagine hearing the sound of that heavenly dinner bell ringing out and the call, "Come Home; it's suppertime."

I imagine that great, heavenly feast and sitting down at the family supper table with Abraham, David, and Paul. Or even better, my mom, dad, and grandparents. Better still, sitting next to Jesus…
Do you yearn for that heavenly banquet…to sit down with those gathered around the greatest supper table of all time?
Tune your spiritual ears to listen for that dinner-bell-call to come home!
John the Revelator wrote, "Blessed are those who are called to the marriage supper of the Lamb!" (Rev. 19:9 NKJV) I was invited and I RSVPed so I know I'll be there. Will you?
If you love Southern Gospel, and even if you don't, I hope I can persuade you to listen to Suppertime by George Younce and the Gaither group. (Make sure you have a tissue handy. I can't get it to start where I want. He tells a fun joke before the song begins.)
If the Master rings the bell tonight, will you be ready to go Home? Out of a heart of love, our Beloved Lord died to place a name card on that table and save a spot for you. Will there be an empty chair, or will you be there to fill it? Don't miss the opportunity!
"…for the promise is…for as many as
our Lord invites and bids come to Himself."
(Acts 2:39 Amp)
Hooking up with…
Thursdays…
Fridays…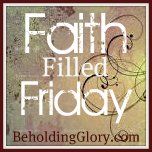 Sundays…