Little Valley lived among the verdant hills that stood tall and proud. All the trees and flowers on the hills stretched out in service for their created purpose. A true testament to their Creator.
Although delicate wildflowers and sweet-smelling honeysuckle adorned Little Valley, the artistry of the hills intimidated her. She compared herself to the regal hills and thought poorly of herself, "What am I amongst these majestic hills of the Creator? Nothing but weeds and stones cover my terrain. I have no beauty with which to serve and magnify My Maker."
One day, dark billowing clouds as black chariots of doom gathered across the sky. On the hills, the flowers closed their petals; the trees folded their leaves in terror. The sun disappeared, leaving no ray of its existence upon anything.
Little Valley shivered in the foreboding gloom and swirling winds, as the calamity wrapped itself around her shoulders in a sinister black cloak.
The proud hills trembled under the mighty power and oppressive weight of the tempest as its violence ripped at the hills' beauty.
The silence of the hills contrasted with Little Valley's bemoaning of her situation. The storm struck at her heart, leaving a gaping hole in her landscape. The birds disappeared; their songs of praise gone with them. And all the other valley creatures departed for homes unknown. She cried great tears of grief for her loss.
In her mourning, she cried out to her Creator, "Save me, Master. I've been torn asunder. All is lost."
Whispering back, He answered, "My sweet field of pleasure, My Little Valley, nothing strikes at your heart except it is sifted through My loving fingers. You do not see now but you will see later the beauty born of suffering. You will bring great glory to Me. Do not compare yourself with others. Trust in My Word. Trust in My promises."
Little Valley sighed and rested in the knowledge that the Master Creator knew best.
Though they eventually ceased, the tears Little Valley shed filled the gaping hole and a beautiful pool of water emerged. The calm waters belied the rugged rocks lining its depths.
Water lilies began to appear on the pond's surface. A profusion of brilliant colored blossoms poked their heads up around the water's edge. The grass grew the most vibrant shade of green and flourished everywhere. The birds returned to nest in newly formed trees.
Little Valley reveled in the results as she blossomed with new strength and beauty, born out of the suffering as the promise of the Lord. For the rest of her days, she knew she would serve her Master and bring glory to Him.
Though God has gifted you and set a purpose for your life, do you feel unworthy, untalented, or lacking in some area to serve Him because you compare yourself with others?
Just as the hills and valleys each have their own grace, beauty, and purpose, so does each child of God. Each of us serves to glorify the Lord in our own capacity, which is honoring to Him and beneficial to others. Whether you minister to large numbers or your family or next door neighbor, it is all serving the Lord. No one ministry is greater than another.
You are worthy to serve because Christ lives within you, so "whatever you do, whether in word or deed, do it all in the name of the Lord Jesus, giving thanks to God the Father through Him," (Col. 3:17 NIV) as "though you were working for the Lord rather than for people." (Col. 3:23 NLT)
I pray you know this…

"For the Lord your God is living among you.
He is a mighty savior. He will take delight in you with gladness.
With His love, He will calm all your fears.
He will rejoice over you with joyful songs."
(Zeph. 3:17 NLT)
***I hope you don't mind a rerun.
Hooking up with…
Mondays…

Tuesdays…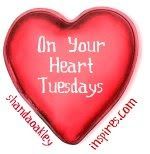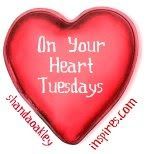 Wednesdays…